Who doesn`t love wearing clothes that inspire? Everybody desires to prompt out wherever they go. Young people always want to look up-to-date, trendy, and beautiful. Even so, this desire cannot be easily fulfilled since looking like a style icon is not a castle in the air. We will tell you about what`s trending in streetwear t shirts.
Read the full blog to change your streetwear t shirt game to hit the jackpot.
Why have a thing for streetwear t shirts?
Streetwear is a line of casual clothing, trendy among young boys and girls. This was first introduced in New York hip-hop fashion and soon adopted by singers and artists around Californian surf culture. In the 1990s, this style of clothing grew globally. Streetwear t shirts are casual and comfortable yet stylish and trendy.
 They gain popularity in a blink of an eye, and the demand for these tees increases as time passes. Because street singers and skateboarders first introduced them, these tees are considered highly fashionable. People with a passion for music fall in love with this clothing line at first sight, and they continue to do so. Street-style apparel has captured the attention of young people more rapidly, and it's increasingly demanded among them now. The followers of this clothing line are regarded as voguish.
Numerous style statements and fashion sense are associated with street-style t-shirts and apparel.
Here we are discussing the different aspects of these streetwear t shirts:
Casual and fashionable
Streetwear t shirts
are considered the most casual piece of clothing. In urban youth subcultures, it has its own gravity. The youth love to look fashionable and unique in a casual way.
Comfortable yet trendy
The craze for
streetwear t shirts
is for their comfiness as well. Young people always have the urge to be trendy.
Streetwear shirts
are usually lightweight, loose, and baggy.
Streetwear t shirts
that are shapeless promise comfort and trendiness. Isn`t it amazing to look trendy in your comfortable t-shirt?
Fabric and Design
The fabric used for streetwear t shirts is soft cotton or jersey. T-shirts are often made of wrinkle-free and sweat-proof fabrics.
The designs and graphics of t-shirts are eye-catching, bold, and even customized. Logos and animation on
streetwear t shirts
will set you apart from your competition.
Versatility
Because
streetwear t shirts
can be paired with numerous articles such as ;
Add a jacket on top of your street-style t-shirt to make you look a little more stylish.

Pair it with pants for a college day.

 Wear it along with a button-down shirt to add coolness to your personality.

Hang out with friends in a basic tee and your favorite shorts.

Add socks on the above look to stand out and edge.
There are so many styling options you can opt for with your basic t-shirt and look versatile every time.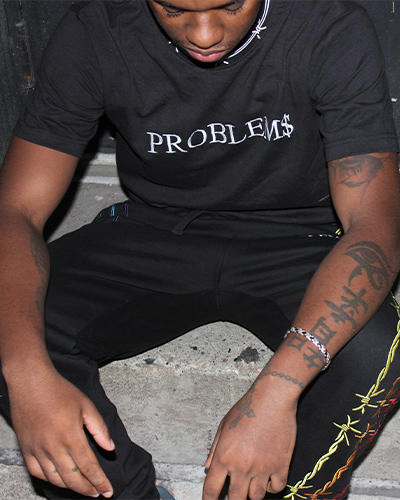 Trends For Streetwear T shirts
Streetwear t shirts style are ever-changing and unstoppable. It's not an exaggeration to say that a new trend emerges every day. It's trouble-free to follow a trend but arduous to find out what will go in a long way.
We`ll get you covered with what's trending in t-shirt appeal.
Cropped streetwear t shirts
Beat the heat with a hemless cropped tee top that never goes out of fashion, especially in summer. The game is not over yet; pair your cropped t-shirt with jeans or a leather jacket to burn the chills.
Crypto streetwear t shirts
From 2022 onward, many people began investing in crypto and purchasing crypto t-shirts as well. we all know crypto grew unexceptionally well so do the crypto t-shirts.
Retro streetwear t shirts
The classic vintage t-shirt will never fade away its charm. From 90's street fashion to 2000*s tech animation, people love wearing retro streetwear t shirts.
The nostalgic vibe that attracts and sets people on fire comes only from retro.
Minimalistic
People of all ages highly love
streetwear t shirts
with minimal graphics and text. BE minimalistic is a new trend, and youth love to adopt this in their styling as well. A minimal design with so much meaning behind is what youth is looking for. Minimal designing t-shirts are a hit now.
Pun streetwear t shirts
Pun T-shirts are the perfect way to express your personality. You can use pun shirts to express your aggression, passion, or even sarcasm.
Zombie streetwear t shirts
Who doesn`t love zombies but never wants to be one? Zombie streetwear t shirts are not a new trend; they have their roots in Halloween. Artists inspire youth to follow the zombie trend by wearing these tee on Halloween night.
Now, zombie tees are celebrated not only on Halloween but throughout the year.
Shapeless
The most captivating tees are shapeless. Loose and baggy tees are the essence of true street-style t-shirts. Girls and boys equally demand it.
Solid colors
Nothing can beat the hype of solid-color tees. Black and white are a must-have for all t-shirt lovers. Other than that, suburbs love to flaunt solid colors that go well with their personality.
Aggressive Graphics
T-shirts with aggressive graphic designs are much popular among youth. Enthusiastic pictures and text shows their compassion to be unique.
Customized tees
Customized T-shirts add uniqueness to one's personality. It gives people the courage to tell their stories to the world. 
People often follow a customized pattern of their favorite athlete or artist.
The best thing about streetwear T-shirts is that they are so versatile. You can use them as daywear or bump them into a night-out ensemble. With the right accessories, plus match and contrast, you can make any streetwear work for you.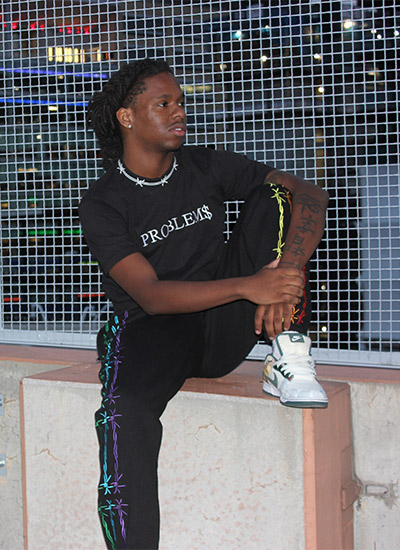 OG Heart Shirt

$

40.00

Problem$ Shirt

$

40.00

Divine Angel Shirt

$

40.00

Casino Print T-Shirt

$

40.00

Rhinestone Hoodie

$

65.00

ProblemWorld Beanie

$

30.00

Barbed Wire Sweats

$

75.00

Problems Graffiti Denim

$

80.00
How to style streetwear?
While the big dogs rely on buying limited edition products to amp up their street style, a lot of us are not that lucky. Fortunately, there are numerous ways to get streetwear style to work for you:
SHOES!

Shoes make the outfit. Always start from the bottom when you are styling your streetwear. When it comes to this style of dressing, sneakers are the lynchpin that ties the entire outfit together. Hence, it is important to have a brand or two that you are loyal to and trust to deliver quality and style together.

This does not mean that you throw your money at every new drop. No. Pick and choose, bide your time, and make your move when you find the best peace.

Remember: Loose is not Baggy

While loose can be great for lounging around the house, there might be a better pick for an outing. Why not show off your silhouette in a nice-fitting hoodie? Yes, it is possible, granted that you take your time. If you are going for an oversized bomber jacket, then your best bet would be to pair it with nicely fitted jeans.

Keep it simple

If you are diving into streetwear for the first time, we recommend that you do not go "flashy." Instead, keep it simple, and instead add an element of trendiness with one accessory at most. Two, if you are having a good hair day.
Wrap up
A streetwear tshirt is a part of the fashion and style statement. It is a perfect combination of style and comfort. It is easy to carry on a long day or on a date night. It adds versatility to your personality. In short, it is a power-pack piece of clothing in your wardrobe.