The black hooded sweatshirt isn't breaking news in the fashion scene; it's been around for a few decades. Yet, its enduring appeal speaks volumes about its timeless charm. Primarily, this versatile piece has won over countless hearts thanks to its understated coolness. However, what really sets it apart is the canvas it offers for personal style and individuality. Particularly, the beauty of a black hoodie lies in its uniqueness; you can wear it any way you want. Whether aiming for casual or trying to add a touch, this staple lets your personal style shine.
Let's cover all the intricacies of styling black streetwear hoodie.
ProblemWorld Black Hooded Sweatshirt Revolution: Rhinestone Hoodies
The Rhinestone Hoodie by Problem WorldWide is a glamorous fashion piece. Furthermore, it sparkles with the beauty of rhinestones, making it a stunning addition to any wardrobe. Not only does the hoodie exude style, but it also provides warmth and comfort. With meticulous attention to detail in its design, this fashion item seamlessly combines fashion and function. In addition, the incorporation of high-quality rhinestones ensures that it shimmers in every light, allowing you to stand out in any crowd. Whether you're heading to a casual gathering or a night out on the town, this hoodie guarantees you'll shine. Problem WorldWide has truly created a unique blend of luxury and practicality with the Rhinestone Hoodie.
The Evolution of Black in Fashion: A Journey through Time
The history of black in fashion is a tale of transformation, rebellion, sophistication, and inclusivity. Moreover, it reveals the enduring power of this color in the ever-evolving world of style. Here's to exploring its rich history, from medieval dresses to black hooded sweatshirts with zipper through these key points:
Early Elegance:
Black symbolized luxury and nobility during the Renaissance and the Elizabethan era. Admired by the nobility for its lavish and majestic look, black was a favored choice among royals.
Victorian Mourning Attire:
In the 19th century, black clothing held a profound association with mourning and sorrow. Furthermore, this connection was especially pronounced after the passing of Prince Albert, the husband of Queen Victoria. Consequently, the Queen's mourning attire set a trend that rippled through society, making it a visual expression of the collective sense of loss.
Coco Chanel's Influence:
In the 1920s, Coco Chanel revolutionized fashion by introducing the "Little Black Dress". By doing so, she reflected black through its modernity and sophistication.
The Rebel: James Dean:
The 1950s saw iconic figures like James Dean sporting black leather jackets. Thus, this style choice infused black with a sense of rebellion and youthful exuberance.
The "Goth" Movement:
Black became synonymous with the goth subculture as it was characterized by its dark and dramatic attire. Often by heavy use of black clothing and accessories. Additionally, makeup played a significant role, with Goths embracing intense, often monochromatic, dramatic cosmetics to express their individuality.
Streetwear and Athleisure:
In recent years, black hooded sweatshirt have gained immense popularity within athleisure culture, offering comfort and a sleek aesthetic. High-end designers like Givenchy and Alexander Wang have embraced black, making it a staple on the runways for its timeless appeal.
Types of Black Hooded Sweatshirts
Black sweatshirts, also known as pullover hoodies, come in various styles and designs, making them versatile for various occasions. Several of these varieties include:
Classic Black Hooded Sweatshirt:
The traditional black hoodie is a timeless and versatile piece of clothing. Furthermore, it provides comfort and warmth, making it an ideal choice for casual outings and lounging.
Black Hoodie with Pockets:
Many prefer the convenience of having pockets in a hooded sweatshirts with zipper. Moreover, functional pockets offer storage space for essentials and add a stylish element to the hoodie's design.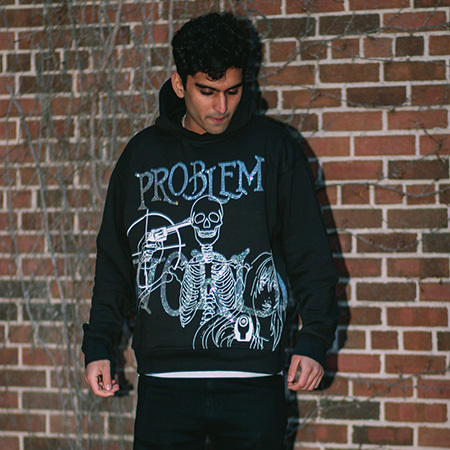 Black Workout Hoodies:
For fitness enthusiasts, a black workout hoodie is a must-have. Additionally, these hoodies are often designed with moisture-wicking fabric to keep you dry during intense workouts. Not only that, they provide a comfortable fit for activities like jogging or gym sessions.
Black Streetwear Hoodies:
Black streetwear hoodie is known for their urban-inspired designs. They often feature bold graphics, logos, and unique embellishments. As a result, it becomes a fashion statement for streetwear aficionados.
Black Sports Hoodies:
The black sports hoodie is designed with athletic performance in mind. Ideally, they enhance mobility and moisture management, making them ideal for sports like basketball, soccer, and running.
Black Graphic Hooded Sweatshirt:
These black hoodies feature eye-catching graphics or artistic designs on the front or back. Such trendy look is quite popular among those who want to express their style and interests through clothing.
Black Zip-Up Hooded Sweatshirt:
While not a pullover, hooded sweatshirts with zipper are worth mentioning. Furthermore, it offers easy on-and-off access and versatility, making them suitable for layering and adjusting to different temperatures
Why People Love Black Hoodies
A black hooded sweatshirt can lift your style game and overall look regardless of the occasion. People love these style staples for various reasons, making them a popular choice. Here's why:
Functional Pockets:
Pockets provide practical storage options for essentials like keys and smartphones. This contributes to an increase in convenience and enhances overall flexibility.
Layering and Versatility:
Whether it's a classic pullover or a zip-up, black hooded sweatshirts are perfect for layering in various weather conditions.
Comfort:
especially in black, offer exceptional comfort, perfect for relaxing or running errands.
Neutral Aesthetic:
Black complements a wide range of outfits and color combinations, adding to its versatility.
Every Occasion:
From workouts to casual outings, black hooded sweatshirts are suitable for a wide spectrum of events. It makes them beloved by people of all walks of life.
How to Style a Black Hooded sweatshirt
For Women
Casual Chic Look:
Pair your black hooded sweatshirt with high-waisted, slim-fit jeans and stylish white sneakers. Add a statement belt and accessorize with hoop earrings and a crossbody bag for a casual yet fashionable look.
Cozy Weekend Outfit:
For a cozy weekend look, wear your black pullover hoodie with comfortable leggings or joggers. Top it off with a pair of fluffy slippers or fuzzy slides for the ultimate relaxation.
For Men
Street Style Cool:
To create a cohesive urban street style look, integrate multiple transition words to connect your outfit components seamlessly. Start by pairing your black streetwear hoodie with distressed jeans. Next, complement this ensemble with high-top sneakers and a snapback cap. To elevate the overall aesthetic, accessorize with a chunky chain necklace and a crossbody bag. This way, you'll effortlessly exude the essence of urban street style.
Active and Ready:
If you have a black sports hoodie, wear it with moisture-wicking athletic shorts and running shoes for a sporty appearance. Additionally, don't forget a sports watch and a gym duffel bag for a complete athletic vibe.
Dressed-Up Comfort:
Layer your black sweatshirt under a tailored overcoat and wear it with dress trousers. To complete the ensemble, you can add classic leather shoes, thus creating a business-casual look that combines comfort and style.
How to Transform Basic Hoodies into a Contemporary Fashion Statement
Transforming a simple hoodie into a modern style statement is easier than you might think. Here are some creative tips to elevate your hoodie game:
Mix and Match:
For starters, pair your hoodie with unexpected clothing items. Try it with a pleated skirt, tailored pants, or even a blazer to create a high-low fashion contrast.
Accessorize:
First and foremost, pair your hoodie with unexpected clothing items. Experiment by wearing it with a pleated skirt, tailored pants, or even a blazer to create a striking high-low fashion contrast. Additionally, consider accessorizing with statement jewelry for an extra touch of sophistication.
Monochrome Magic:
Opt for a monochromatic outfit by pairing a black hooded sweatshirt with black pants and black shoes. Furthermore, this sleek and minimalist style creates a modern, put-together look.
Oversized Chic:
Choose an oversized hoodie and wear it as a dress with thigh-high boots. In addition, oversized silhouette adds a touch of high-fashion drama.
Color Play:
Experiment with hoodie colors. Whether you opt for earthy tones, pastels, or bold hues, your hoodie can stand out and turn into a statement piece.
Hoodie Dress:
To elevate your style, invest in an extra-long black sports hoodie; then, wear it as a dress with over-the-knee boots. Additionally, add a belt to define your waist, and consequently, give the look a more polished appearance.
Customization:
Elevate your hoodie game with patches, embroidery, or unique designs. Not only will this make your hoodie one of a kind, but it'll also showcase your individuality and style. Whether you prefer a classic look or something more avant-garde, these customization options allow you to express yourself freely. So, go ahead and transform your hoodie into a true reflection of your personal style.
Summing Up
The black hooded sweatshirt stands as a timeless canvas for personal expression in the ever-evolving fashion world. Whether you prefer a relaxed or a touch of sophistication, this adaptable essential complements your personal style. Black hoodies have a rich history of transcending subcultures. It has embodied the rebellious spirit of rock and punk, becoming a symbol of nonconformity. Simultaneously, it has found its place in the refined elegance of high fashion, showcasing its versatility. Therefore, it continues to stand the test of time, proving its enduring appeal. Embrace your unique style and seize the opportunity to make your statement with this iconic black hoodie.