Can you believe it's already 2023? And now, we all want to look fantastic and fresh without putting too much effort. After all, who has the time or energy to put together a perfectly curated outfit every day? That's where mens streetwear outfits comes in. It's effortless, it's hot, and it's always on-trend. And don't worry if you're not a fashion guru.
This blog is here to step up your game in 2023 without making you feel like a fish out of water. So, get ready to take some notes (or just screenshot everything; we won't judge) because we're about to make you look like a total boss.
Mens Streetwear Trends For 2023
Get ready to mix things up and push the boundaries with the latest mens streetwear outfits trends for 2023.
Mens Streetwear Trend # 1: Stacked Denim
Denim, denim, denim – the classic and timeless staple of every wardrobe. However, this year, the trend is all about the stack.
The stacked denim effect features long jeans that bunch up below the knee, creating a unique look that's fitted around the thigh area. Furthermore, for 2023, the stacked denim trend is evolving with a slight flare, keeping up with the streetwear trends from the past two years. So get ready to rock this effortlessly cool look wherever you go.
Mens Streetwear Trend # 2: Oversized Cargo Pants
Are you the type of person who's constantly losing things? Well, have no fear, 2023 oversized cargo pants are here.
With enough pockets to rival Mary Poppins' bottomless bag, you'll never have to worry about misplacing your phone, wallet, or keys again. And the best part? Cargo pants are back in trend for 2023. However, it is not the ultra-low-rise version from the early 2000s.
This time, they're high-waisted and more comfortable than ever. Look out for them in various colors, but the most popular ones are black olive green and khaki.
Mens Streetwear Trend # 3: Puff Jackets
Looking for a stylish and warm jacket? A Puff Jacket is something you need.
These jackets provide excellent insulation, so you'll stay warm even when it's freezing outside. Furthermore, they're available in various materials, including leatherette, which gives them a chic and edgy look. But it's not just about the warmth and style – Puff Jackets are also super durable. That means you can wear them year after year without worrying about them falling apart.
Mens Streetwear Trend # 4: Hoodies
Hoodies have been famous for many years. And we are sure in 2023; the hoodie obsession is not going anywhere.
People love hoodies because they are effortless and still make a stylish statement. However, in 2023, people will wear hoodies in different styles. Some are carrying them with simple pants. On the other hand, some will see wearing it with sweats. Your ability to remain fashionable will depend on how you style your hoodie. With luck, you will turn heads with your unique sense of fashion.
Looking for the latest in men's streetwear outfits? Check out our latest mens streetwear hoodie collection, designed to suit your streetwear style. Our hoodies are made with high-quality materials and are perfect for your wardrobe.
Mens Streetwear Trend # 5: Two-Tone Fashion
Double the color, double the style. Yes, you read it right. This is what a two-tone fashion trend is.
The two-tone fashion concept involves using two colors in a garment or outfit to create a striking visual effect. This can be achieved by using contrasting colors like black and white or complementary colors like blue and orange. Two-tone fashion has been a popular trend for many years. And now, for 2023, it continues to be a go-to choice for designers and fashion enthusiasts. Whether it's a bold, daring statement or a subtle, sophisticated look, this two-tone fashion concept is a versatile and timeless approach to fashion.
Mens Streetwear Trend # 6: Sherpa Denim Jacket
Some trends are so good that they always stay in style. The Sherpa denim jacket is a prime example.
This classic piece has been a wardrobe staple for decades, and for a good reason. Not only does it provide the perfect combination of style and comfort. It is also versatile enough to wear with a variety of outfits. Dress it up with a pair of chinos and dress shoes, or dress it down with jeans and sneakers. In both ways, the Sherpa denim jacket is a timeless piece that will keep you warm and stylish. So why not invest in this must-have item and make it a part of your wardrobe? Check out the latest mens streetwear outfits collection.
How to Style Men's Streetwear Outfits in 2023
Streetwear fashion is constantly evolving, and in 2023, it's more important than ever to stay up-to-date with the new trends. After all, how you style your streetwear look can make or break your overall appearance. Therefore, we've put together a men's streetwear style guide to help you stay on top of your fashion game.
So, what are the style guidelines you should be following in 2023? Let's take a closer look.
Always Invest in Basic Items
No matter what year it is, essential items are the foundation of any great outfit. In 2023, ensure you have a few staple pieces in your wardrobe. For example, a plain white tee, skinny black jeans, and a classic denim jacket. These items will serve as a canvas for more statement pieces and allow you to mix and match easily.
The Oversized Trend Is Not Going Anywhere Soon
Oversized clothing has been a trend in streetwear fashion for a while now. And we are sure it's not going away anytime soon. In 2023, embrace the trend by incorporating a few oversized pieces into your outfit. An oversized hoodie or baggy pants can add a unique and stylish twist to your look.
Try Mixing Up Things
Don't be afraid to mix up your streetwear pieces. Pair a graphic tee with a denim jacket or any other piece. Mixing textures, patterns, and styles can add depth and personality to your look.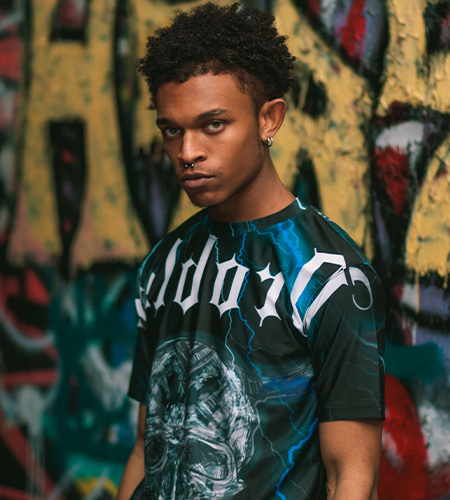 Be Confident in What You Wear
One of the essential things about streetwear fashion is confidence. You can wear the most stylish outfit, but it will only look good if you're confident. Wear what makes you feel good and secure, and your outfit will shine.
Experiment with Denim
Denim is a timeless material that is always in fashion. In 2023, experiment with different denim pieces, like a denim shirt or distressed jeans. Denim can add a rugged and edgy vibe to your outfit, and it's versatile enough to pair with almost anything.
OG Heart Shirt

$

35.00

Problem$ Shirt

$

35.00

Divine Angel Shirt

$

35.00

Casino Print T-Shirt

$

35.00

Rhinestone Hoodie

$

60.00

ProblemWorld Beanie

$

25.00

Barbed Wire Sweats

$

70.00

Problems Graffiti Denim

$

75.00
Conclusion
In conclusion, 2023 trends are about creativity, experimentation, and making a statement. By following the tips and trends we've shared, you can stay on-trend while maintaining your unique style. Confidence is key in fashion, so wear what you love and feel good. So, go ahead and explore the world of streetwear fashion. Try out new styles and trends and find the perfect look that speaks to you.
We hope you've enjoyed reading this guide as much as we've enjoyed creating it. Now, it's time to hit the stores and find the perfect mens streetwear outfits for you. Happy shopping!