Do you ever wonder why people gravitate toward black? Especially while choosing a clothing item? What is so special about it? Black symbolizes power, elegance, and sophistication. It is a flattering color that lends an air of authority and intelligence to those who wear it. Moreover, black is perceived to be a strong and flattering color that minimizes the effort involved in selecting outfits. In fact, a lot of people love layering black on black, such wearing a black shirt and hoodie over black distressed jeans. Many believe that black gives an illusion of a slimmer figure and adds an element of chic to the look. It is also considered a rebellious color due to its association with punk rockers and bikers.
If you enjoy an all-black wardrobe collection, black distressed jeans are just the right fit for you. When Levi Strauss decided to update their classics in the 1950s, black jeans became the ultimate wardrobe staple. They dyed a pair of blue jeans black, and the rest is history. Fast forward to today, when brands like Saint Laurent have added black jeans to their collection of luxury and streetwear. And by the way, do you know that Elvis Presley wore the first pair of Levi's black jeans during the recording of jailhouse road? Well, now you have more reason to buy that black distressed jeans.
A fashion statement
Most men prefer to grab black jeans while rummaging through their wardrobe. Why?
The thing with black jeans is that they can be styled with multiple outfits and add a sense of class to every piece. Furthermore, as a core piece of multiple-style outfits, men should know what to wear with their distressed jeans to put their best foot forward. Whether it is for a weekend getaway, a concert, or work, there are numerous ways to style your outfits. Moreover, these men's distressed jeans come in all sizes, so you don't need to worry about size issues.
This blog will provide several outfit suggestions that will stun everyone with your dressing sense. In addition to that, we will also guide you toward the brands that sell varieties of distressed jeans that do not turn grey after a few washes. We all want that, don't we? So, let's get started.
Brands and Styling
If you were confused about styling your black jeans and couldn't decide which brand to opt for, then worry no more. We are here to guide you toward the best brands and styling options that will stand out.
In addition to pairing your black distressed jeans with a jacket, add classy sneakers to your look. You can wear them any day, anywhere you want. Even at workplaces if they allow it. Check out the following ideas and choose according to your style.
Fast fashion clothing
When you shop, you don't just look for the piece that looks good but also the budget-friendly one. For your convenience, we have provided some high-quality brands that you can easily buy. Forever 21 is a fashion industry leader that makes the latest trends accessible to everyone. They have unique styles and innovations with a dynamic store environment.
Furthermore, Madewell has traditional denim looks with a modern feel. Their black distressed jeans are designed in a way that stays black much longer than other traditional jeans. H&M provides a variety of black jeans that do not fade and give a stylish look. Hollister is where you can get the no-fade black jeans that best suit your style.
Luxury brands
If you don't want to compromise on the quality and have enough budget to get the best outfits for yourself. Then there are some brand options for you. B(air) by 7 For All Mankind is not only lightweight, but they also stay black after several washes. They are over-dyed so that they do not fade into grey. Everlane has a transparent pricing policy. Moreover, their distressed jeans stay black after many washes. They use 'stay black dye' that does not let the jean's color fade.
Justin Theroux: New Men's Black Distressed Jeans has the guy's love for distressed jeans incorporated into his brand. They don't fade easily and can be styled with numerous outfits. Chandler Parson has a variety of jeans that have channeled the punk rock roots in slim cuts and dark hues. You can also get a modern black distressed jeans men's collection from the Problem World.
What to wear with Black Distressed Jeans?
Now that we have provided the brand information, we will let you know how you can style your outfit. Black jeans are a symbol of versatility. It can be styled with almost everything if you do it right. The classic denim shirt is the best choice to make a fashion statement. Moreover, it is one of those pieces of art that makes you look handsome and stylish as soon as you wear it. During spring or summer, a white or faded blue shirt will effortlessly look perfect.
Furthermore, you can add an edgy street style by pairing your jeans with a black crewneck t-shirt and maroon jacket. The maroon sends a bold statement and makes it hard to ignore. More importantly, to maintain a smart appearance wear skinny or slim jeans. In winter, a plain black turtleneck with a black leather strap watch is what you should go for. Hoodies pop up in our minds as soon as we talk about winter. Moreover, you can style your black distressed jeans with a hoodie, tan chukka boots, and a suede jacket.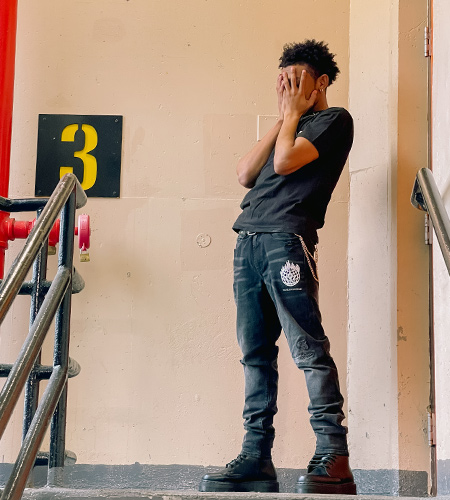 What colors go well with Mens Black Distressed Jeans?
An all-black combination never goes wrong or out of style. If you are looking for an urban or casual look, a pair of black distressed jeans will work perfectly. However, you can wear almost any color combination with black because it rarely clashes with anything. You can also add different colors to your outfit and make it look chic. In addition to that, don't forget to add a dash of confidence in any color you choose to add.
How to wear Black Distressed Jeans?
Now, if you haven't already bought yourself a variety of distressed jeans then what are you waiting for? Go and buy the best one that suits you. Besides, no look doesn't go with distressed jeans. So, it will not be a bad investment at all due to its versatility. You can experiment with different styles from smart, stylish, and casual day-to-day. Furthermore, you just have to keep it simple. But that doesn't mean you hesitate from adding color to your outfit. While black on black looks amazing, adding other colors is also a really good option.
Black Distressed Jeans: Quick tips and tricks for choosing the right fit
Always try jeans before buying them unless you are familiar with the brand.
Opt for Japanese denim as it's more durable and has better quality.
Cheap distressed jeans are perfectly acceptable.
Learn the pin roll.
Except for stretch denim, always choose a size smaller than the one you need.
If you are traveling, go for a softer-washed denim.
Avoid too many rips or holes.
OG Heart Shirt

$

40.00

Problem$ Shirt

$

40.00

Divine Angel Shirt

$

40.00

Casino Print T-Shirt

$

40.00

Rhinestone Hoodie

$

65.00

ProblemWorld Beanie

$

30.00

Barbed Wire Sweats

$

75.00

Problems Graffiti Denim

$

80.00
Conclusion
Black jeans have always been an all-rounder style that helps enhance your looks in several ways including smart and casual styles. It does not inhibit your style and gives a classic fashion statement that gains everyone's attention. So, if you are someone who wants to look your best, search for black distressed jeans. Be mindful of the tips and check the quality of the jeans before buying to avoid any future regrets. Like every other piece of garment distressed jeans needs proper care as well. It is always better to look through your options and avoid any mishaps.
Men's distressed jeans have always been in fashion, and will never go out of style. Due to its color and the numerous styling options it has made an everlasting fashion statement. You just need to know what goes with it, and which collection to choose from. Search for the black distressed jeans men's collection and add different products to your wardrobe.