Have you ever found yourself staring into the mirror, wondering why every beanie you try on doesn't look good? You want to stay stylish and warm during the winter months. But no matter what you do, something just feels off. It can be an incredibly frustrating experience, but fear not! We're here to help. We know that beanies are tricky to get right, but we have all the tips and tricks you need to make it easy. In this ultimate guide to beanies for men, we'll help you unlock the secrets to finding the perfect beanie that suits your unique style and personality.
So, dig out those old beanies because, by the end of this blog, you'll be wearing them every day!
5 Types of Best Beanies for Men
While Americans are familiar with the term "beanie," not all may know the different types of trendy beanies. With options ranging from classic cuffed to playful pom-pom styles, you can select a beanie that looks perfect on you.
Here are some of the best beanies for men:
1. Bobble Hats – Beanies with a fluffy Pom-pom on top
Have you ever noticed the super cute winter hat with a fluffy ball on top that the boy in Home Alone 2 wears? Well, that's quite similar to a type of beanie called a bobble hat. But don't worry if you're hesitant about wearing a bobble hat because it's associated with kids. They're a playful and practical accessory that can add a fun touch to your winter outfit. Remember, feeling comfortable and confident in what you're wearing is incredibly important.
Quick Tip: To avoid looking too childish, opt for a beanie with a smaller pom-pom in a darker color, like black, navy, or gray.
2. High Top Beanie – The cure for bad hair days!
High-top beanies are a recent trend in men's winter hats. These beanies have extra room on the top of the hat and are worn high on the head. In this way, it creates a unique and stylish look and makes this type of beanie one of the best beanies for men. While high-top beanies may not provide much warmth, high-top beanies can still use to cover up a bad hair day. Furthermore, to wear a high-top beanie, ensure it is positioned as high on your head as possible without falling off. Use a more robust knit material to get that extra height for this. And make sure the top sticks up, or you'll look like a Smurf who lost its mushroom cap.
Want cool beanies for men? We have the perfect high-top beanie just for you!
3. Cuffed Beanie – Classic warmth with a folded edge
Cuffed beanies are a classic and traditional style of beanies. They're perfect for a weekend outing or for commuting to work. The cuff around the edge of the beanie provides extra protection for your ears and forehead from the cold. To wear a cuffed beanie, simply position it so the cuff covers about half of your ears. However, if the wind picks up, you can pull the beanie down further for extra warmth. When shopping for a cuffed beanie, consider choosing a solid dark color that will match most winter outfits.
4. Slouchy Beanie – Loose and relaxed beanie with a slouchy style
A slouchy beanie has a looser fit compared to other beanies. It sits comfortably on the head and allows extra material to hang or slouch at the back. This slouchy style creates a casual and relaxed look. On the other hand, other beanies, like fitted or skullcap beanies, fit more snugly and conform to the shape of the head. They are the perfect complement to a denim jacket, making them ideal for weekend outings or casual wear.
Quick Tip: if you've got a small face, you might want to avoid going too slouchy with your beanie. It can make your face look even smaller.
5. Fishermen Beanie – Short beanies
If you are looking for trendy and cool beanies for men, then trying a fisherman beanie is a must. This versatile headwear features a shallow crown, allowing it to sit on your head without covering your ears. Fisherman beanies have become a popular choice among hipsters and fashion-forward guys everywhere. While we can't guarantee it'll keep you warm in extreme temperatures. However, you'll look good while braving the chilly weather. Whether pairing it with a denim jacket or a distressed t-shirt, the fisherman beanie adds a casual and effortless vibe to any outfit. It's particularly well-suited for those with chiseled faces, as the snug fit accentuates facial features.
Quick Tip: The fisherman beanies are the best beanies for men that are sporting a shaved head. Pair it with a structured jawline and a well-groomed beard for a 10/10 look.
How to Style Cool Beanies for Men (Tips and Tricks)?
Beanies are a staple in any man's wardrobe, but it can be frustrating when you can't seem to get the same cool look as someone else. Don't worry; it's not always about your head shape or size. Sometimes, the style and size of your body can also make a difference in how a beanie looks on you.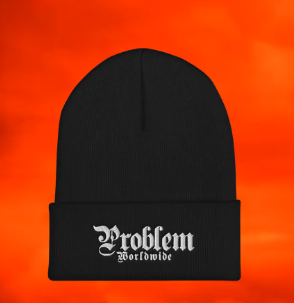 What Beanie hat Looks Best on Men with Curly Hair?
Slouchy or fisherman beanies are some cool beanies for men available in the market that look best on men with curly hair. They provide enough space for the curls to flow freely while keeping the head warm. A beanie made of a softer, stretchier fabric can also help prevent the flattening or frizzing of the curls.
Best Beanies for Men with Long Hair?
Slouchy or high-top beanies for men would look great on men with long hair. The slouchy beanie allows for more room and creates a relaxed, casual look. On the other hand, a high-top beanie provides a more polished look.
Best Beanies for Men with Short Hair?
There are a lot of choices of beanies for men with short hair. However, the ones that look best on them are close-fitting beanies that sit snugly on the head. The fisherman beanie, cuffless beanie, and standard folded beanie are great options for men with short hair.
Where Can I Find Cool Beanies for Men that are Fashionable and Affordable?
Looking for stylish and affordable beanies? Check out Patagonia or Problemworld! These brands offer a wide range of trendy beanies that can make you look just as fashionable as that Instagram influencer you've been obsessing over.
OG Heart Shirt

$

35.00

Problem$ Shirt

$

35.00

Divine Angel Shirt

$

35.00

Casino Print T-Shirt

$

35.00

Rhinestone Hoodie

$

60.00

ProblemWorld Beanie

$

25.00

Barbed Wire Sweats

$

70.00

Problems Graffiti Denim

$

75.00
Wrapping Up
In conclusion, there are a lot of versatile and stylish beanies for men that can elevate any outfit. No matter what kind of look you're going for – casual or dressy – you can always find a beanie that perfectly complements your style. You just have to understand how to style them to look good on you. Find The best beanies for men from top brands such as Patagonia or Problemworld!
What are you waiting for? Browse our collection now and find the beanie that will make you stand out from the crowd. And, keep your friends wondering why beanies look so good on you and not on them!